Sanding discs are indispensable tools in woodworking, metal fabrication, and more. However, frequent replacements cost money. To maximize your investment, it's crucial to know how to extend the life of your sanding discs. Here are seven tips to do just that.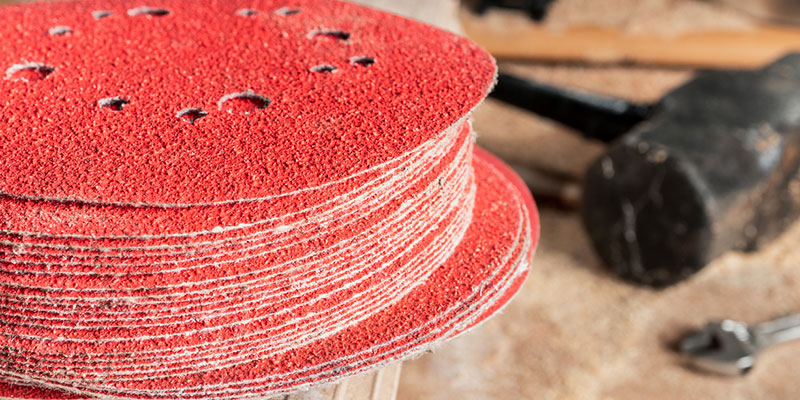 Choose the Right Grit. Using the right grit can lead to efficient sanding and slower disc deterioration. Always start with the manufacturer's recommendations for the material you're working on. Use a coarser grit for initial sanding and switch to a finer grit for finishing.
Proper Installation. Improperly installed sanding discs can wobble or detach, causing uneven wear. Center the disc and securely attach it to the backing pad. Double-check for any signs of wobble before starting the machine.
Maintain Consistent Speed. Variable speeds cause inconsistent wear and may damage the sanding disc. Use a constant, moderate speed for a uniform finish and longer disc life. Consult the manufacturer's guidelines for optimal speed settings.
Apply Even Pressure. Excessive pressure can cause the disc to wear out faster, resulting in an uneven finish. Apply consistent, moderate pressure while sanding. Let the abrasive do the work rather than forcing it into the material.
Keep It Clean. Dust and debris can clog the sanding disc. Use a rubber cleaning stick or compressed air to remove buildup from the disc periodically.
Store Properly. Improper storage results in moisture damage or warping of the sanding discs. Store your sanding discs in a cool, dry place away from direct sunlight. Please keep them in their original packaging to maintain their shape.
Regular Inspection. Regular checks can help you spot signs of wear or damage early, preventing potential accidents. Inspect the sanding disc for tears, cracks, or excessive wear before each use. Replace it immediately if you notice signs of damage.
Extending the life of your sanding discs is not just about saving money; it's also about ensuring efficiency and safety in your operations. We want you to maximize the lifespan of your sanding discs, reduce waste, and improve your overall productivity. We've been helping customers get the tools for the job since 1942. Contact us to get recommendations about your sanding discs.